IHSA Football 2021 Fall Season Preview Biggest Headlines and Questions With Coach Big Pete


Well 2021 Fall Season Is Here And There Are Plenty Of Storylines/Questions
Covid Took Our 2020 Fall But Now We Are Back IHSA Football Family
Make Sure To Watch Video On The Bottom For Full Preview


How much do you take the Spring Season into the Fall Season?


I don't take anything..... Spring was a weird, crazy ride that no one wants to do again. It was pure chaos and it was anybody's game during the season. This Fall will bring back a sense of normalcy to IHSA Football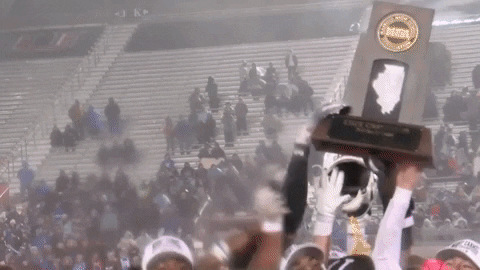 Can anyone stop Montini, East St. Louis, ICCP, Rochester, Lincoln Way East, Mount Carmel, St. Rita?


These teams are going be something special this season. Especially with the reclassifications of Montini to 3A and ICCP to 2A. East St. Louis has a young QB but has one of the best WR cores in the Illinois not if the Midwest. Mount Carmel looks ready to rock this season and Coach Lynch wants another title. Lincoln Way East looks for another ring under the Zvonar dynasty. St. Rita wants that IHSA state title and everyone should be scared. That is a grown man's offensive line right there.


Ref Shortage


Helicopter parents, snowplow parents, yelling coaches mix for a horrible future of getting refs for youth sports and high school sports.


TELL ME WHY? Why Have Some (very few) Chicagoland Area Prep Reporters Become More & More Defensive On Twitter?


Can't be critical of them or they will block you. Can't bring up a fact or they will block you. Can't mention a tweet that is not factual or they will block you.
Thank You Central, Southern Illinois reporters for being good reporters and not giant snowflakes.
IHSA TRANSFER PORTAL


Looks like some teams got a lot a gains in the IHSA Transfer Portal. But I'm sure the IHSA is paying attention (I'm Joking). Of course not....


TELL ME WHY 2? Why Does Wheaton Warrenville South Feel Like A Team Ready To Win A Title?


That Sean Norris hire by WWS was one of the smartest hires in the IHSA. Coach Norris brings energy and youth to the Tigers.


Will the IHSA do something about these reclassifications in the future?


Montini at 3A what in the blue hell? ICCP and Bishop McNamara going to 2A is like grown men playing against children. Many more horror stories of reclassifications that need to be looked at by the IHSA. (I'm Joking).... Its not going to happen LOL!










2 Big Name Coaches Leaving After 2021 Fall


Brother Rice Head Coach Brian Badke & Bishop McNamara Legend Head Coach Richard Zianni. Coach Badke one hell of a guy and a true leader to those kids. Coach Zianni a legend and a king in the Kankakee area. Both will be missed and both have help boys become men.


Warren Township Is HUNGRY!!!!!


Coach McNulty has got his players wanting that IHSA Title. McNulty got these kids ready to go to DeKalb


It Has Been A Long Time Old Friend......
ITS TIME TO WIN THE BIG ONE AGAIN


Bolingbrook, Wheaton St. Francis, Wheaton Warrenville South, Hersey, Glenbard West, Geneseo


Minooka Will Be Hunting For A Title


Minooka is a program on the verge of greatness.






2 Coaching Names That Need To Comeback To The IHSA


Josh Hjorth (Former Stevenson Coach ), Chris Roll (Former Lake Park Coach)


This First Week Of The Season Will Have Less Mistakes Then Previous Years


With the Spring season, I really can see less mistakes this upcoming first week. I see a lot of teams performing in perfect shape like Week 3-4.


NEW Illinois Head Coach & Illinois Native Bret Bielma Is KILLING IT IN ILLINOIS!!!


Coach Bielema has made his staff available to all the IHSA Coaches and impressed Illini Recruits