Talking To Phillips QB Leonard Smith Class Of 2019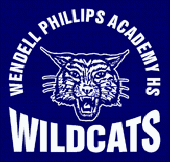 So in a way to better understand the use of Deep Dish Football for Illinois recruits and the whole entire IHSA Football scene. Decided to do player profiles of players who you might not know or you might know , but you should respect them for their roles on their respective teams.
Leonard Smith QB/ATH Phillips Class Of 2019 5'11 170
COACH BIG PETE'S TAKE
Leonard Smith burst onto the IHSA football scene during his freshman putting up big numbers at Hubbard. Now at Phillips for his senior season Leonard Smith will be putting up some huge numbers with the Wildcats.
So Leonard Smith what schools have you been talking to?
I've been talking to Cornell University and Minnesota State Moorhead
What does football mean to you?
Football i